Basics of Sheet Metal Fabrication, a cost-effective, time-sensitive Manufacturin - Gandhinagar
Wednesday, 16 March 2016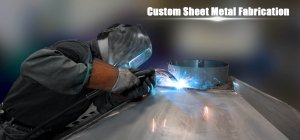 Item details
City:
Gandhinagar, Gujarat
Contacts

Nitin patel

+91-98258 02030
Item description
In the world of manufacturing, any industry you take— be it automotive or appliances, electronics or energy—and that industry relies on sheet metal fabrication. It's where it all begins and ends, and is responsible for an infinite amount of everyday products.
There are many subjects to look into to understand the whole process; But sometimes it's important to get back to basics.
Here, we'd like to look at sheet metal fabrication, and what it's all about.
What's the Process?
It begins with a piece of raw sheet metal, which is shaped into a desired part through forming/deforming or material removal. The thickness of the metal sheet varies based on the specific metal being used and can range greatly—for example, up to 3/16 in. for aluminum, or 14 gauge for stainless steel.
By cutting, burning, and stretching, using special metal fabrication tools (such as band saws), the sheet metal is formed into any desired shape. Various processes can be used to achieve the exact shapes and specifications of the part. Rolling machines, for instance, form steel into round sections, while cutting torches are used to cut large pieces of metal easily.
To simplify it even more, this process can be broken down into two categories:
cutting and forming
To use the examples above, rolling machines fall under the forming category and cutting torches fall under the cutting category. Further processes used in metal fabrication include shearing, punching, hot and cold sawing, tapping, bending, and more.
Welding, one of the most common of the processes, forms fabricated pieces into place while protecting them from defects, such as warping. Once the fabrication is complete, various finishing processes can be applied, including painting, powder coating, and plating.
The Materials and Specifications
A wide variety of metals can be used in sheet metal fabrication. Atour premise, we work with alloys, aluminum, stainless steel, copper, titanium, molybdenum, and more.
The Advantages
There's a reason sheet metal fabrication is so common and preferred; it is a cost-effective way to achieve any number of desired shapes and sizes, creating the exact part needed in a short amount of time. Whether it's a small part of the semiconductor industry or a larger automotive part, sheet metal fabrication meets precise needs and creates parts that are strong and long-lasting that meet exacting standards.
Metal fabrication is a pretty broad term
What we mean is that you could be in need of something other than just standard sheet metal fabrication. We realized that every business has its own particular needs when it comes to metal, and that it would be best to put it all under one roof. We've managed to do this through the help of our talented professionals and certifications.
To learn more about our precision sheet metal fabrication services, visit our website and feel free to contact us anytime with questions.